The translator/interpreter appears before the judiciary as a court appointed expert.  He is a party of notarial deeds executions and assurances and weddings at the Registry Office. He performs his activity during business travel, trade fairs, lectures, conferences abroad and on many other occasions.
We are flexible. When the client needs to hire interpreter for a longer period he should inform the Office at least a month in advance.
The rates for each type of translation/interpretation are set individually with the customer. The client covers the costs of translator's travel and stay.
The client ensures interpreter with satisfactory working conditions, including food and beverages during performed work.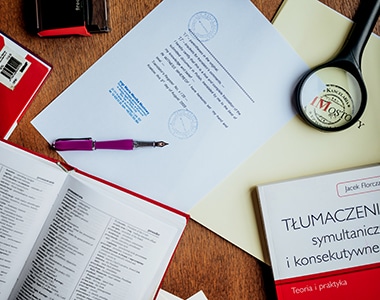 KANCELARIA TŁUMACZA MS MOSTOWY
al. Krasińskiego 1 pok. 508, 31-111 Kraków
("Jubilat" building)
Opening hours:
Monday – friday 9:00 – 16:50
+48 12 423 03 30
+48 889 365 964
+48 666 877 700
kancelaria@mostowy.com.pl
Bank account:
Kancelaria Tłumacza MS Mostowy
al. Krasińskiego 1 pok. 508, 31-111 Kraków, Poland
PL 44 1140 2004 0000 3202 7868 0570
SWIFT: BREXPLPWMBK
mBank S.A. FORMERLY BRE BANK S.A. (RETAIL BANKING) LODZ
Skrytka pocztowa 2108, 90-959 Łódź